Specially Scented to Attract Pet to Pad
Box of 100 Pads Measuring 22″ X 23″
Clear Quest Pet Puppy Pads are the cost-effective housebreaking pads for puppies. These puppy pads are made with high technology polymer to absorb liquid without leaking.
My dog, Meisha, was pad trained since she was a puppy.  We take her outside but she knows if she can't wait, she can still use the pad which makes traveling with her so much easier!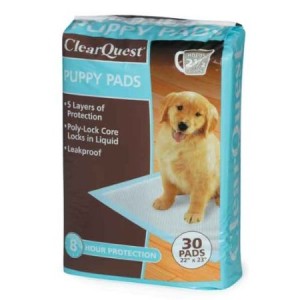 Our super-absorbent Clean Go Pet Puppy Pads take the hassle out of house training puppies.
Made of an advanced technology polymer that provides extra absorption, these pads feature leak-proof backing and sealed edges to ensure easy clean-up.
Specially-scented pads will attract and encourage pets to use the pad.
Great for puppies and dogs that are incontinent.
Once the dog is accustomed to using them, the pads can be placed outdoors to encourage dogs to eliminate outside.
Puppy Pads measure 22″ x 23″.