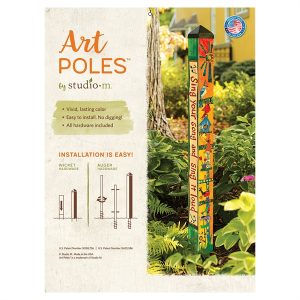 Are you looking for a way to honor someone special or celebrate a special anniversary or need a housewarming gift?
An Art Pole is not only special and personal, but unique as well. Your friends and family will be wowed by the beautiful images on this work of art.
Unique Design and Exceptional Quality
Made in the USA.
Ultra-durable, maintenance-free PVC.
5-year fade resistance depending on your regional climate and sun exposure.
NO DIGGING! Easy installation.
No need to make a trip to the hardware store. All hardware is included.
Where to Find
We no longer carry the custom art poles but you can find a nice collection of standard art poles at MyBackyardDecor.com