Halloween Dog Costumes
Have some fun with your dog this Halloween with these clever dog costumes. Choose from bears, angels, clown, devil, dinosaur, glow in the dark, fairy tails, hot dog, k9 cop, skunk, monkey, panda, bunny, pig, prisoner, pea, and tiger.
Hot Diggity Dog Costume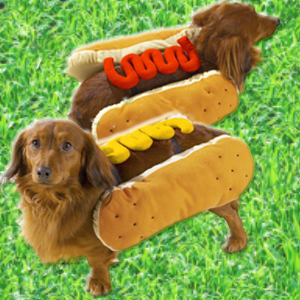 FREE SHIPPING! – For Amazon Prime Members
Turn your dog into a Hot Diggity Dog for Halloween
Click Here for Ketchup
Click Here for Mustard
Note: If the dog has a stout build, select one size larger.
Other Costumes