Contains Over 100,000 Flower Seeds
Nectar-producing varieties
Easy to Grow!
1 Pound Bag with a Premium Assortment of Bright & Cheerful Annual & Perennial Wildflowers
Plant in Sunny to Partially Shaded Areas
Most successful if planted in the spring or late fall
Wildflowers are a  great way to enhance the beauty of your landscape. This seed mix has been selected and formulated to provide beautiful, long lasting color.
3 Steps to planting beautiful wildflowers:
Prepare the Soil: Loosen top 2-3 inches of soil; Rake smooth and remove debris to create an optimal seeding area
Plant the Seed: Evenly apply with a hand-held spreader or by hand; Rake lightly, working seed into soil 1/8″ to 1/4″ deep
Water & Fertilize Seeded Areas: Keep soil moist until seeds have germinated; Apply a seed starter fertilizer to increase seeding success.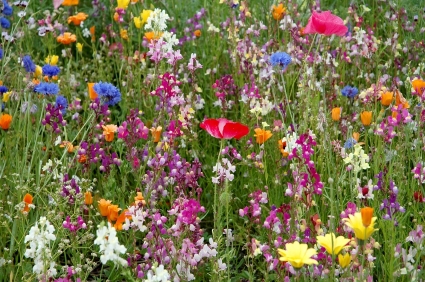 Flower Seeds Included:
Pheasant's Eye
Sweet Alyssum
Pot Marigold
Corn Flower or Bachelor's Buttons
Wallflower
Shasta Daisy
Dwarf Morning Glory
Lance-Leaf Coreopsis
Caliopsis or Tick Seed
Sensation Cosmos
Sulphur Cosmos
Annual Forget Me Not
Larkspur
Dragon Flower
California Poppy
Blanket Flower
Gilla
Annuals Baby's Breath
Candytuft
Lavatera or Mallow
Baby Snapdragon
Scarlet Flex
Lupine Pixie Delight
Perennial Lupine
Texas Bluebonnet
Malope
Evening Primrose
Shirley or Flanders Poppy
Prairie Coneflower
Clasping Coneflower
Black-eyed Susan
Annual Soapwort
Silene
Predominant Bloom:   Orange, Scarlet, Blue & Yellow
Average Height of Flower:  18″ – 24″
Germination: 70%