Aids Digestion
Adjustable Height
Choose from 3 sizes of bowls
Choose either black or white stand
ProSelect Adjustable Dog Diners are raised dog diners that allow dogs to eat in a more elevated, comfortable position. Eating in a natural standing position improves a dog's body alignment and aids in digestion.
I wish I had one of these for my lab who died of cancer. The cancer had gotten in his throat and he couldn't put his head down toward the floor to eat so we put his bowl on a stool. That is when I found out it is so much better for pets to be able to eat with their heads elevated.
Adjustable Diners feature: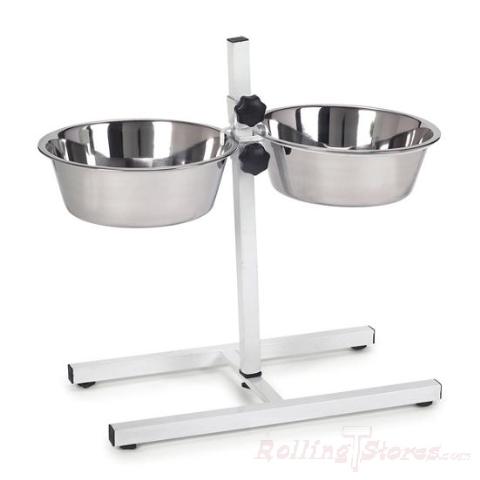 A wide H-style base
Two (2) dishwasher safe stainless steel bowls
Bowls adjust easily with the twist of a knob
Diners are available in 3 sizes:
Diners with two 2-quart bowls measure 18″ x 11 3/4″ x 17 1/2″
Diners with two 3-quart bowls measure 20 1/2″ x 11 3/4″ x 17 1/2″
Diners with two 5-quart bowls measure 23 1/2″ x 10 3/4″ x 22″