Clean Teeth = No Doggie Breath
Save on Vet teeth cleaning bills!
27 oz size contains:
Teenies: 96 Treats in Canister for dogs 5-15 lbs.
Petites: 45 Treats in Canister for dogs 15-25 lbs.
Regular: 27 Treats in Canister for dogs 25-50 lbs.
Large: 17 Treats in Canister for dogs 50-100 lbs.
Jumbo: 9 Treats in Canister for dogs over 100 lbs.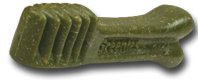 Delicious, satisfying treats clean your dog's teeth.
Specially formulated to whisk away troublesome plaque and tartar build-up, thanks to natural chlorophyll that freshens offensive "doggie breath."
Recently redesigned toothbrush shape features natural break points, to assist dogs in biting off chewable pieces that digest easily.
Added vitamins and minerals.
A fantastic way to treat your dog while aiding their dental hygiene!  My dogs love these treats and know the sound of the packaging when I open the bulk canister.  They get so excited because this is their favorite treat.  I give my 3 dogs one treat a day to help break down the plaque and tartar build-up on their teeth.  It has a massaging effect for them and when done, their breath is much fresher!
Watch their excitement in the video: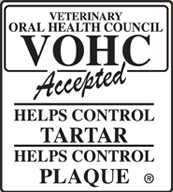 Greenies® recipe carries the Veterinary Oral Health Council (VOHC) Seal of Acceptance.
Feeding Instructions:
Feed one Greenies® per day. Not suitable for dogs less than 5 lbs or dogs less than 6 months of age. Fresh drinking water should always be available.
ATTENTION: As with any edible product, monitor your dog to ensure the treat is adequately chewed. Gulping any item can be harmful or even fatal to a dog.