See Chart Below for correct dose for your dog's weight. Each box contains 3 packets.
Kills All Intestinal Parasites
Great dog dewormer that gets all intestinal parasites!
RoundWorms
HookWorms
TapeWorms (Usually a separate OTC product)
Whipworms (Usually had to take to a vet)
Very easy to use:
Each packet contains 1 dose in granular form
Take 1 each for 3 days in a row
Just pour Safe-Guard® granules over your dog's regular food for three consecutive days, twice a year
Mix with a little wet food to ensure your dog ingests all the product
With this type of product, a tapeworm takes a blood meal 1 time every 3 days
This is why it is given over a 3 day period
Refer to the dosing chart below based on your dog's weight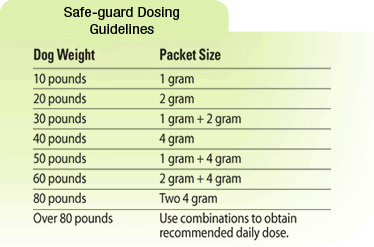 Packet size is the daily dose. Your dog must be treated with this dose for 3 days in a row. Each box contains 3 packets.
If your dog's weight is between the weights shown on the chart available on the package (see above), you can safely give the dose recommended for the next size up.
For example, if your dog weighs 52 pounds, you can give one 2-gram and one 4-gram packet (for a total of two packets, or 6 grams) of Safe-Guard Canine Dewormer once a day, for three consecutive days.
This all in one product cuts down on the cost of making sure your pet stays in top condition.
Safe for use in puppies 6 weeks or older and adult dogs, including pregnant dogs.
Use only for dogs; Do not use on a dog or puppy that is sick!
Human Warning: Keep this and all medication out of the reach of children.