Sentry HC WormX Plus (Pyrantel Pamoate/Praziquantel)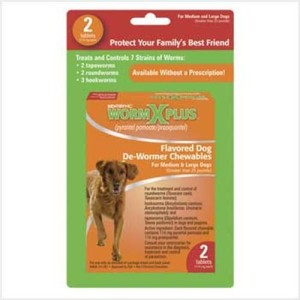 Click Here to find the right dosage for your dog.
Flavored Dog De-Wormer Chewables
Treatment of:
Roundworms (Toxocara canis, Toxascaris leonina)
Hookworms (Ancylostoma caninum, Ancylostoma braziliense, Uncinaria stenocephala)
Tapeworms (Dipylidium caninum, Taenia pisiformis)
Active Ingredients:
Each flavored chewable tablet contains:
114 mg pyrantel pamoate
114 mg praziquantel
Weight
6.0 to 25.0 lbs.
25.1 to 50.0 lbs.
50.1 to 100 lbs.
100.1 to 150 lbs.
150.1 to 200 lbs.
No. of Tablets
Use the 30 mg size instead
Give 1 Tablet
Give 2 Tablets
Give 3 Tablets
Give 4 Tablets
Sentry HC Worm X Plus Flavored Chewables are recommended for dogs 12 weeks of age and older.
Precaution: The safety of Sentry HC Worm X Plus Flavored Chewables in breeding dogs and pregnant bitches has not been determined.
Click Here for the product label.
Human warning: Keep this and all medications out of the reach of children.