Fits Like a Second Skin!
Master Gardeners & Amateur Gardeners Love Atlas Gloves!
These gloves fit your hand so well you will have the dexterity you need to even plant seeds!  Whether you have a tough job of cleaning out flower beds after the winter debris or a delicate job of picking bugs off your roses, these gloves can handle any task you have.
Not only are these great for gardening, I have a customer who owns a Tire & Automotive Center and he purchases these gloves because they protect his and the employees' hands and they can retain the control to even remove the stem valve on the tire!
Janet E ~ San Antonio, TX says:
"You may want to add another excellent use for these gloves. I wear mine at the gym! Just think of the protection especially during flu season. They have really held up to washing after each use too."
All Atlas garden gloves have seamless knit liners – no lumps or seams to rub and irritate hands.  They are constructed of tough nitrile coating with a breathable nylon liner.  They are even Machine Washable!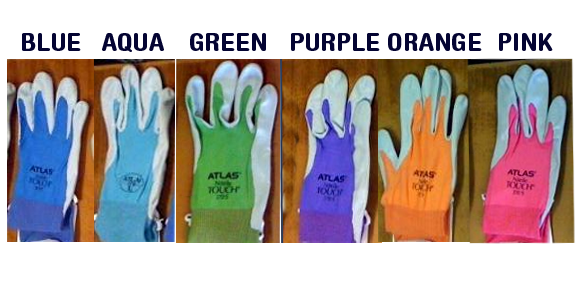 In my town the Gardening Club and the Master Gardeners come in to purchase these gloves because they are tried & true.  There is no better recommendation than that for a glove that offers the range of uses, is comfortable on your hand and can be machine washed!
Now you want to buy a pair; select the size and color so you can feel the difference this glove will make in your gardening (or any) activities!
How do I know what size gloves to order?
It's best to order gloves in the size you normally wear. Most (but not all) gloves are pretty consistent in size from one brand to another, so if you have bought size "Large" in the past, then you'd have a pretty safe bet in ordering a large.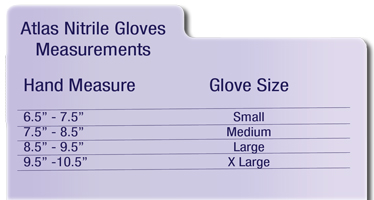 If you have no idea what size glove to buy and have no past experience in buying gloves, you can measure your hand. We suggest you use a cloth tape measure like the one shown in the pictures below. You can get a range of measurements depending upon how much you try to make your hand wide and flat. We get the best fit by using the largest measurement you can get (by making your palm as wide and flat as possible with the thumb sticking straight out). After getting a measurement, use the chart above to convert the measurement to an alpha size.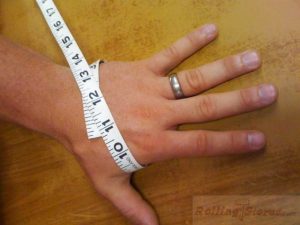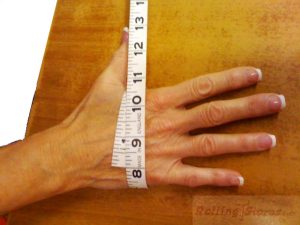 A note about women's glove sizes: Generally speaking, a ladies glove size is one size smaller than a corresponding men's size (men's medium equals a ladies large), but ladies gloves are cut longer with more slender fingers.