1 LB. Container
Absorbed by roots and moves through entire plant
Up to 2 months of protection
Even new growth protected for up to 8 weeks
An easy and effective way to control over 25 damaging insects for up to 8 weeks!
Hi-Yield® Systemic Insect Granules is for use on roses, flowers, shrubs and containerized plants (except edible plants) to kill insect pests listed in the table below.
Adelpids
Aphids
Armored Scales
Fungus Gnat Larvae
Japanese Beetle Adults
Lace Bugs
Leaf Beetles
Elm Leaf Beetles
Virburnum Leaf Beetles
Lily Leaf Beetles
Leafhoppers
Glassy-winged Sharpshooter
Leafminers
Birch Leafminers
Boxwood Leafminers
Mealybugs
Pine Tip Moth Larvae
Plant Bugs
Psyllids
Root Weevil Larvae
Black Vine Weevils
Sawfly Larvae
Soft Scales
Lobate Lac Scales
Thrips
Whiteflies
White Grub Larvae
Japanese Beetles
Chafers
European Chafers
Oriental Beetles
Asiatic Garden Beetles
Hi-Yield® Systemic Insect Granules is absorbed by roots and moves through the entire plant. New growth is protected against insects for up to 8 weeks.
Hi-Yield® Systemic Insect Granules may be applied at planting. When using on established plants, apply before pest problems occur or immediately when first seen. Applications should be made every 8 weeks during the growing season.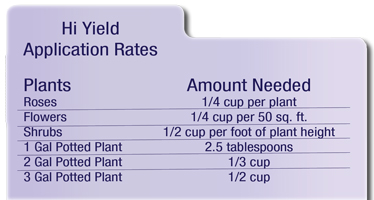 For best results, apply Hi-Yield® Systemic Insect Granules evenly, cultivate lightly, and water thoroughly.
For containerized plants, apply the appropriate amount of granules evenly to the top of the soil.
Mix the granules thoroughly into the top layer of the soil making sure not to damage the upper roots. Water in thoroughly.
To help assure that the roots can absorb the insecticide, do not water too heavily for the first 10 days.
Work granules into top 1 to 2 inches of soil.
For flower beds, sprinkle granules evenly over the bed.
CAUTION:
Keep away from children. Read label before use.
Active Ingredient: Imidacloprid… 0.22%
Inert Ingredients: …99.78%