Martin's Viper Insecticide Concentrate 4 oz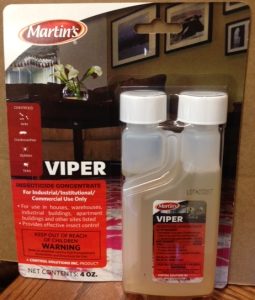 4 0Z. Size Makes 4 Gallons
One of the longest lasting residual products
Get Rid of:
Ants

Centipedes

Cockroaches

Crickets

Beetles

Fleas

Flies

Millipedes

Mosquitoes

Silverfish

Bees

Scorpions

Ticks

Wasps

Wood Infesting Beetles
I can promise you one thing in regard to the lasting effect-when we spray for roaches in particular, months later a roach can cross this path and it will turn over and DIE!
But rest assured, for pets and people, once the product has dried it is no longer harmful.  You will want to leave the residence for a couple of hours for the smell to subside.
Our rule of thumb: 1 oz. in 1 gallon of water (this will take care of all the listed pests!)
Active Ingredient: 25.4% Cypermethrin
This will get the adult pests; for complete control you need to get the larvae. Use a product called I. G. Regulator with Nylar. Mix 1 oz. Viper & 1 oz. I.G.R. in 1 gallon of water which will stop the cycle.
ATTACK THE ADULT AND LARVAE STAGES WITH ONE SPRAYING!!! 1:1 RATIO:
1 OZ. VIPER

1 OZ. I.G. REGULATOR

1 GALLON OF WATER
Learn More
Ask a Question
Use the form below to ask a question
Average rating:
1 reviews
Sep 13, 2015
owner
I don't know what review you want or rating
rating 5